AWESOME CATERING, ZERO CARBON
atiyah means 'gift of love' and we're proud to be Australia's first zero-carbon catering service. Everything about our business is sustainable. atiyah – Melbourne catering, offers a complete sustainable solution for your corporate or private event, showcasing our awesome Lebanese and Middle Eastern food that is of course, made with love. We're revolutionising catering through our community of amazing people with a passion for the environment and sustainability. Eat with atiyah, and save the planet.
For further information, call (03) 9119 4550.
Our authentic family recipes celebrate a generous Lebanese culture tradition where whole food ingredients rich in vegetables, fruits, whole grains, legumes and healthy plant based fats from olive oil, nuts and seeds are combined with spices and herbs to produce incredible flavours. We bring the authentic flavours from the streets of Lebanon to your plate.
Sourced from ethical growers and sustainable farms, our awesome food is always made fresh. You really can taste the difference, from the tangy flavour punch of sumac, to the nutty toasted sesame seeds in our za'atar and the slightly sweet and salty goat's labneh. The quality of the ingredients we use shines through every time.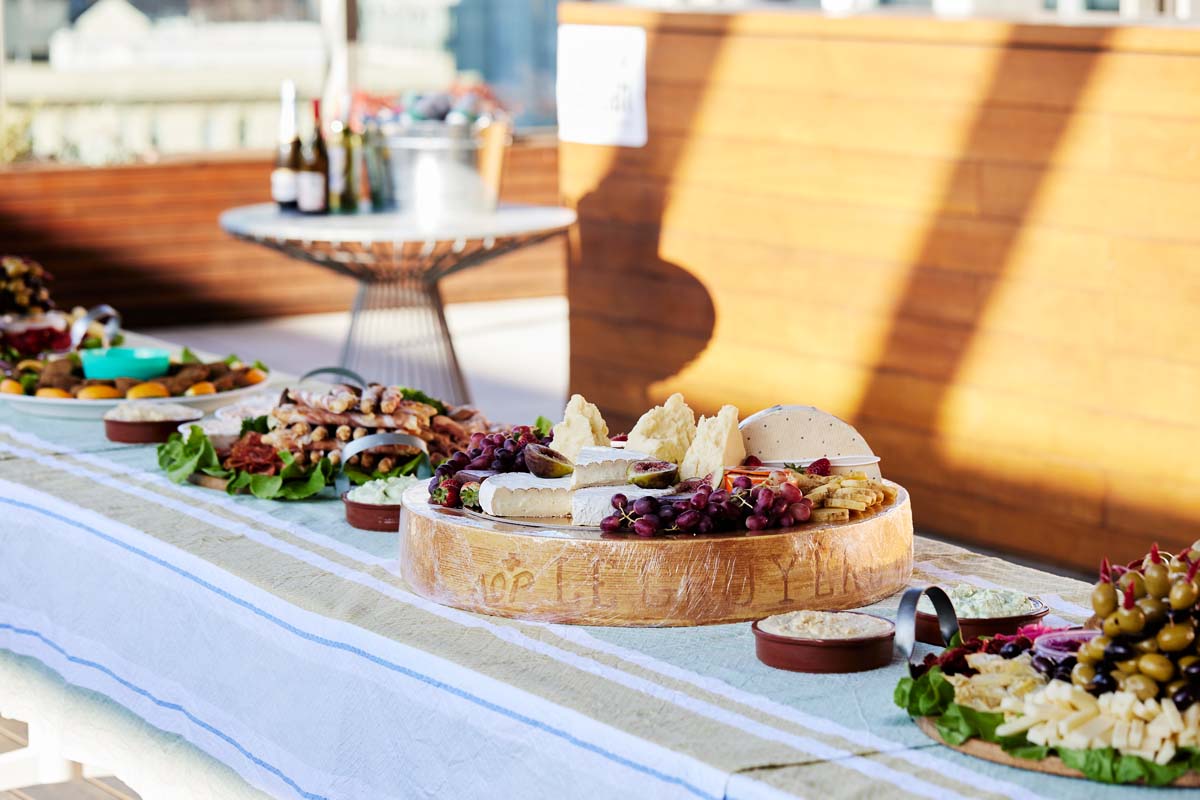 Cheese platter
Selection of cheese, seasonal fruits, nuts, jelly & jams
Mini Lebanese Za'atar Flatbread
atiyah's famous Za'atar mix from South Lebanon (GFO/VE/VG)
Grilled Eggplant Roll
Grilled eggplant w/ fetta, pomegranate & mint (GF/VEO/VG)
Za'atar manakish
atiyah's famous Za'atar manakish
Rizz a Djej
Rice and chicken pilaf
Dessert Platter
Baclava, nougat, turkish delights, dates and walnut maamoul
Spinach Fatayer
Homemade dough recipe, stuffed with a spinach, herb, molasses and fresh lemon (VE/VG)
We combine the Lebanese and Middle Eastern diets with fresh, local, premium produce to create an incredibly healthy and delicious food experience. Our menu selections range from lunch & picnic boxes to seasonal grazing platters and hot food. Our team will happily customise a menu for your special event or occasion and can accommodate any specific dietary requirements.
Water, Fresh Juice & Organic Kombucha

Alcohol + Full Bar Service
Starts from $10 + p/p
min. 24 people
Includes 1 buffet main + 1 buffet side
Starts from $39 + p/p
min. 30 people
Individual & Mixed

$39 + p/p

Includes za'atar manakish (traditional Lebanese flatbread), tabouli & homestyle dips

Dessert

Starts from $8 + p/p
Buffet: Hot & Cold Dishes
Includes LEBANESE RICE w/ vermicelli (GF Option available)
Four hot dishes & two salads

$54 + p/p

min. 50 people

Six hot dishes & three salads

$59 + p/p

min. 100 people
Za'atar
Cheese
Vegetarian

Banana muffins mini (GF/VE)

Apple & cinnamon
Raspberry white chocolate
Chocolate
Blueberry

Jam
Nutella
Cinnamon
Salted Caramel

Apricot and almond
Raspberry
Blueberry

Apricot and almond
Plain
Chocolate
Almond
Nutella

Granola, yoghurt & fruit cups
Canapés + INDIVIDUAL PLATTERS
Za'atar flatbread (GFO/VE/VG)

Middle Eastern Dips (GF/VE)

Lebanese cheese cigars (VEO/VG)

Grilled eggplant w/ fetta, pomegranate & mint (GF/VEO/VG)

Kafta mini beetroot bun burgers (VE/VGO)

Kibbeh w/ meat & pine nuts

Kibbeh w/ chickpeas, pumpkin & spinach (GFO/VE/VG)

Samké Harra - fish w/ tahini (GF)

Falafel bites w/ tahini (GF/VE/VG)

Smoked Salmon cucumber rolls (GF)
Loubieh Bi Zeit (GF/VE/VG)

Slow cooked green beans with tomato, onion, garlic & spices
Add: Tender meat

Cooked endives, lightly tossed in olive oil & crispy onion wings

King fish w/ mild chilli tahini – almonds & pine nuts

Messakaa Batenjan (GF/VE/VG)

Smokey eggplant & potato cooked in rich tomato, onion & garlic
Add: Minced meat

Lebanese chicken fillet & minced lamb rice - rich in aroma of warm savory spices & nuts.

Baked chicken & potatoes in a lemon & garlic sauce

Layered kafta patties, potatoes & onion with a rich homemade tomato sauce – served with rice

Lebanese stuffed grape leaves w/ spiced roast lamb

Cooked with spices, onion & topped w/ slow cooked lamb & roasted nuts
Mediterranean salad of finely chopped tomato & onion, lots of fresh parsley & tossed with lemon juice & olive oil

It's a fresh and bright salad made with seasonal vegetables & topped with sumac fried Lebanese flatbread & lemon

Lebanese spicy fried potatoes with coriander, garlic & lemon

Arnabit Bi Tahini (GF/VE/VG)

Baked cauliflower & garnished w/ tahini sauce, parsley & roasted almonds

Batenjen Raheb (GF/VE/VG)

Grilled eggplant served w/ parsley, green onion, & tomatoes. Drizzled w/ Lemon garlic olive oil, green & red pepper garnish w/ fresh pomegranates
Kibbeh w/ chickpeas, pumpkin & spinach
Lebanese vine leaves
Mediterranean tuscan olives
Variety of vegan cheese
Sun-dried marinated tomatoes
Caramelised onions
Gherkins
Pickled turnips
Chargrilled seasonal vegetables (3-4 options)
Marinated artichokes

Kibbeh w/ chickpeas, pumpkin & spinach
Falafels
Lebanese vine leaves
Mediterranean tuscan olives
Sun-dried marinated tomatoes
Caramelised onions
Gherkins
Pickled turnips
Chargrilled seasonal vegetables (3-4 options)
Marinated artichokes

Kibbeh w/ meat & pine nuts
Lebanese vine leaves
Mediterranean tuscan olives
Sun-dried marinated tomatoes
Caramelised onions
Gherkins
Pickled turnips
Chargrilled seasonal vegetables (3-4 options)
Marinated artichokes
Cured meat (wide variety of, prosciutto, italian salami, off the bone ham, cabana, spicy salami)
Prosciutto wrapped sticks

Soft cheese options - french brie, camembert, double cream
Hard cheese options - aged & vintage cheddars
Blue cheese options - Australian, French and Danish variety
Seasonal fruits (strawberries, grapes)
Dried fruits (fig, apple slices)
Premium quince
Fig jam

Betlewa
Birds nest
Maamoul
Nammoura
Chocolate mouse (VEO)
Chickpeas blended w/ tahini, olive oil, lemon juice & garlic

Cooked eggplant w/ tahini olive oil, lemon juice & garlic

Soft cheese made from strained yoghurt

Yoghurt, drained cucumber, olive oil, fresh herbs, garlic, lemon juice & salt
GF: Gluten-Free, GFO: Gluten Free-Option, VE: Vegetarian, VEO: Vegetarian Option, VG: Vegan, VGO: Vegan Option
Ben and his team certainly impressed our guests, serving up a feast of Lebanese food and climate-active catering insights at our Advanced Analytics event. More than 130 leaders and experts from across Coles enjoyed the food and Ben's presentation on atiyah's Climate Active membership, their sustainable practices, and their contribution to helping clients meet their sustainability goals – one meal at a time. At Coles, "Together to Zero" is a key focus area of our Sustainability Strategy. atiyah did a great job helping us reduce our footprint – using products sourced from ethical, sustainable farms, using solar and water filtration to prepare the food, electric vehicles to deliver it, fully-recyclable resources for us to consume it, then ensuring any waste (there was little left over) was responsibly disposed of. Thanks for helping to make our event such a memorable one, atiyah!
I engaged atiyah to provide premium catering for 350+ national artists in our VIP area over 2 days - Not only did they only have 3 weeks' notice to pull it off - they did the most amazing job! Ben and the team customised a menu specifically for this event, the back of house operation was seamless, the staff were amazing to work with and most importantly the product served was delicious. We had so many compliments from the guests and their sustainability policy was so well received by everyone. I would 100% engage atiyah again - really looking forward to the next one!
The team at Atiyah catered our five day Customer Markets Expo at AGL Energy. Over five hundred of our attendees enjoyed a delicious, fresh spread of Lebanese food and were educated on daily changes they can make to contribute to a more sustainable, Carbon Neutral future. Atiyah is a Climate Active member, are verified plastic neutral and use foods sourced only from ethical farms and sustainable growers. Everything is renewably run (solar panels, water tanks and e-vehicles) at Atiyah and I highly recommend Ben and his team to cater at your next corporate event. It has been an absolute delight to deal with such a professional team whose food is both delicious and sustainable.
We have used atiyah for corporate catering a number of times now. The food is delicious and the service is excellent – including waste collection for recycling! Importantly to us as a business focussed on 'helping transition the economy to a sustainable future for the earth and its people' the product is also carbon neutral. Not only does the food taste amazing, it does not contribute to our carbon footprint!
It was great to have atiyah catering for our first staff event of the year and knowing that we had carbon neutral certified catering thereby saving 181.79 kgCO2-e emissions
From enquiring with Atiyah, it was a delight dealing with professional and warm correspondence from Ben and Mikaela. We were organising a very special event to honour someone within our industry, and we wanted to ensure our lunch event was special. So we decided to find and support a local business, also a bonus that they are part of the Climate Active network. On the day of the event, Ben was on time, had everything ready with utensils to go, and even the finer details of bringing printed food labels so everyone would know what the dish was called and if it was vegetarian, dairy, nut and gluten free. Let's talk about the food itself, everything was not only presented beautifully but everyone agreed it was delicious and went in for seconds (ample servings).
On request, atiyah founder Ben Armstrong will speak about environmental and sustainable strategies in business.
As consumer demand for carbon neutral products and services continues to grow, Ben will explain how to successfully develop, certify, and take a carbon neutral product to market. He will discuss how to overcome the internal and external challenges that can be faced on the path to market, and also address the key influences and motivations behind carbon neutrality.
Ben will illustrate how the creation of carbon neutral products or services can add value to a brand, business and individual, and also share his tips for daily lifestyle changes that can be implemented in order to contribute to a more sustainable future. 
Ben is passionate about accelerating the world's transition to a sustainable future. He is committed to caring for atiyah customers, protecting our people and preserving our planet.
For further information, call (03) 9119 4550